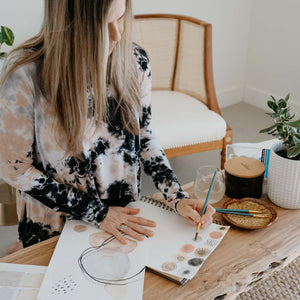 CEO & Founder Kelly Kolterman has creativity in her DNA. Growing up in the Midwest, she was surrounded by a family of artists who inspired her to live without creative limits. She learned many arts including, photography, design, sculpting, painting and wood carving. She owned an Art Gallery and has continually surrounded herself with creativity. 
 In addition to a love of the arts, Kelly is a self-made entrepreneur, yogini, and mother. She spent the past two decades owning and running health and wellness centers. In addition to teaching yoga, nutrition and fitness, she developed adaptive yoga and art therapy programs for those with illness and injuries.
During this time, her love of art, yoga, and fashion inspired her to conceive Jala. Her new students would ask, "What should I wear to yoga class?" She believed that yoga clothing could not only be inspirational but also be soft and feminine. It was also important to Kelly that her designs would be functional and fashionable, as opposed to all the masculine athletic apparel that was prominently available at the time. 

With the love and support of her family, she moved to LA and officially launched Jala as a national brand. Jala's growth has been fueled by the beautiful support of those around her, both locally and in the yoga community across the globe. 
Kelly's intention is to create a business that was not only ethically responsible, made in the USA, and family owned, but also supports other small business owners, especially yoga studio owners. She knows that most studio owners are not driven by profit, but rather the desire to help people. So, she created low-risk wholesale programs that would allow small businesses to prosper.
Kelly is committed to developing sustainable, eco-conscious fabrics and seeking out suppliers that conserve resources and manufacture locally and ethically, in Los Angeles, California. Her collection represents the multi-faceted women of today and the present moment teachings of yoga. Kelly's heart is filled with gratitude for her family, amazing Jala team, and the inspiration she receives from her loyal brand supporters.